Organ Ocean: Waves of Sound
28 April, 2017 | L'Oratoire Saint-Joseph du Mont-Royal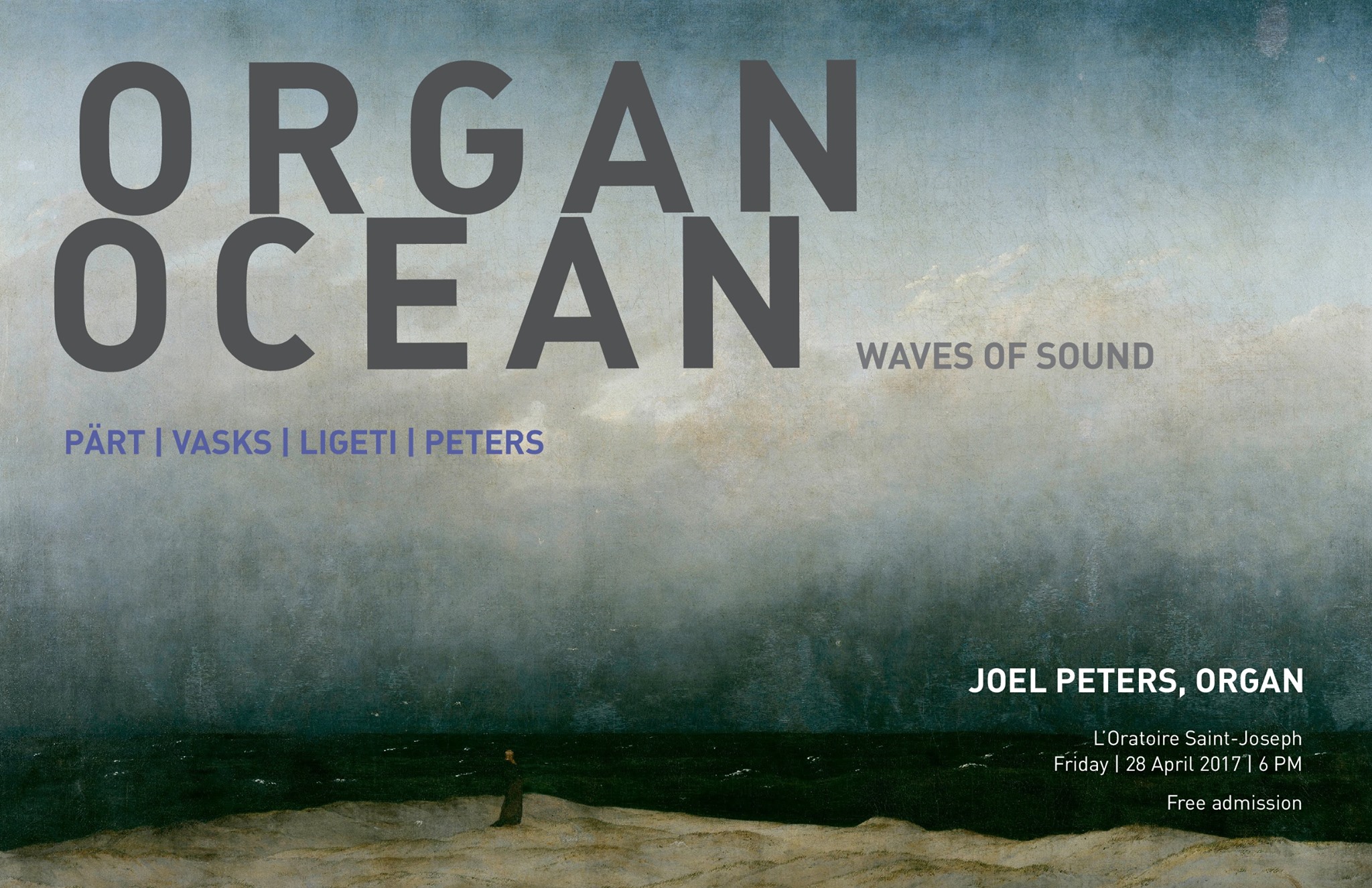 The adjectives used to describe the ocean -- sparkling, vast, monstrous, soothing, terrifying -- can also be used to describe the organ, its sound and its physical presence. This is an organ recital inspired by that idea. It consists of music from the 20th and 21st century which draw on those characteristics particular to the organ and yet, in another way, to those of the ocean. Shimmering textures, soothing rhythms and great waves of sound will envelope the audience.
Satellite Project by ANDRÉ FORGET (writer)
In this short story, André Forget explores the beautiful and controversial world of underwater organs.
Satellite Project by GERALD ENS (Theologian)
"I had not properly noticed Psalm 29 until I first heard Joel Peters's "The Voice of the Lord." His song drew me into the text and its emphasis on the turbulent, raw, and overwhelming power of God's voice. When I was asked to preach on the baptism of Jesus I knew I wanted to focus on the voice of the Lord, rather than the other action in the scene or even the words that are spoken from heaven. I wanted, in the specific and radical context of Jesus's baptism, to present the power of God's voice to the congregation, as Psalm 29 and "The Voice of the Lord" had presented this voice to me.
I read the baptism of Jesus as an anointing for suffering servanthood. The question, then, posed to me by Psalm 29 and Joel's piece was how to read together this suffering servanthood with the kind of power we see in the voice of the Lord. There is a struggle in the piece between clarity and chaos. The refrain enunciates its clear progression only to disintegrate into a tumult of shimmering sound; but it receives its clarity precisely from its repeated submission to chaotic sound (against which it emerges as the orienting refrain of the piece). Perhaps we here have a sense of the way that true power manifests itself in servanthood – and the way that truthful appearance manifests as already disappearing. Truthful refrains are not territorial.
I wanted to follow the form of "The Voice of the Lord" by puncturing the sermon with the repeated clarion call of God's voice."